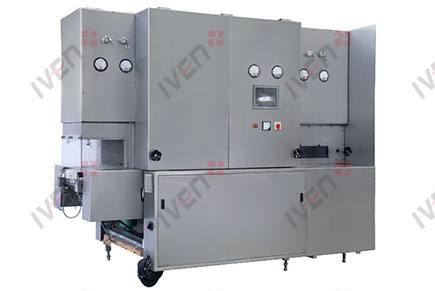 Sterilizing and Drying Machine
Before shipping , Shanghai IVEN Pharmatech'sRSM,Sterilizing,and,Drying,Machine,RSM,Sterilizing,and, are packed with strong wooden case with waterproof cloth to avoid any damage.
Machine mainly used for sterilizing and drying of ampoules, vials, oral liquid bottle, and other glass bottle in the pharmaceutical industry.
Machine can automatically complete whole procedure of bottle in-feeding, pre-heating, sterilizing, cooling and bottle out-feeding . Use laminar flow principle and hot air high-speed disinfection technology; make container in the sealed tunnel achieve the national cleanliness Class A standard. With the good heat distribution and depyrogenation, currently it's the most popular and best drying and sterilizing equipment .
This unit can be used separately, also can be combined into a production line with bottle washing machine and filling machine.
The innovative structure is easy for maintenance
Adopts new mesh belt with side plates conveying, use sprocket chain drive, avoid bottle drop, bottle broken and bottle collapse caused by the bottom belt and side belt deviation or crawling off.
High-temperature hot air blower use water circulation cooling system, take away bearing's heat through the water circulation.
Stainless steel electrical heating, heat rapid and well-distributed.
Hinge type heating seat, maintenance more convenient.
Wide-open heating area, make equipment cleaning and maintenance more convenient.
Drawer type filter mounting seat, make replacement and maintenance more convenient.
RSM series technical parameters
| Model | Length (mm) | Width (mm) | Height (mm) | Heating power |
| --- | --- | --- | --- | --- |
| RSM420/27 | 2800 | 1300 | 2400 | 27KW |
| RSM620/38 | 2800 | 1660 | 2400 | 38KW |
| RSM620/60 | 4300 | 1600 | 2400 | 60KW |
| RSM900/80 | 5260 | 1960 | 2480 | 80KW |
| RSM900/100 | 6800 | 1960 | 2480 | 100KW |