Micro Blood Collection Tube Machine
Shanghai IVEN Pharmatech is one of the toppest Micro Blood Collection Tube machine in China.During these years of exporting , Shanghai IVEN Pharmatech now has rich experience in the worldwide markets
FEATURES

TECHNICAL PARAMETERS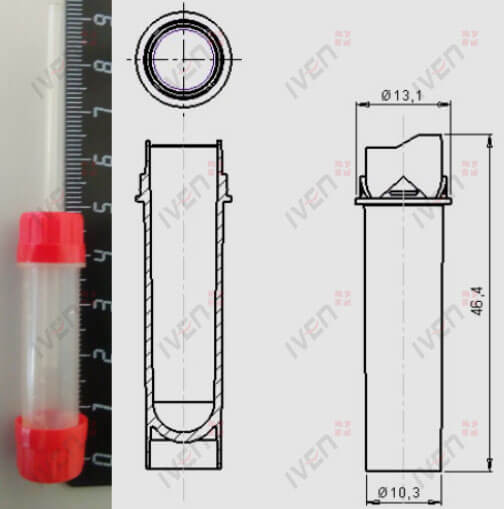 High degree of automation ---- fully automatic assembly operation, reasonable optimization and integration of operation process, automatic capping to finished product output. The whole production line only needs 1-2 skilled operators to meet the production requirements;
High cost performance, mobility and marriage rate of equipment ---- modular design, compact structure,and can be automatically assembled according to the actual production needs of customers.
High degree of human-machine dialogue --humanized station design, humanized human-machine interface program design, display multi-function alarm and auxiliary troubleshooting;
Process control, quality control - material shortage detection, dosing action detection, drying temperature detection, cap in place detection, missing cap detection and other detection,etc. Each process is tested and controlled, high qualified rate;
The dosing system is precise in dosing, and dosing the corresponding products in a targeted manner. The atomizing and dosing station is equipped with ultrasonic automatic cleaning nozzle function.
Ultrasonic automatic cleaning nozzle, and designed with a drying function, you can set the cleaning frequency according to process requirements, no need to clean the nozzle manually . (Atomizing and dosing station)
SUS304 material sheet metal, frame and door sheet adopt nano processing, steel structure frame, high rigidity and shock absorption welded steel structure frame.
Configuration description
Pneumatic: AIRTAC cylinder, solenoid valve, shangshun cylinder and other pneumatic components are used to ensure stable operation and long life.
Electrical appliances: original Schneider (France) electrical appliances, Omron (Japan) and Leuze (Germany) testing originals, Mitsubishi (Japan) PLC, Siemens (Germany) man-machine interface, Panasonic (Japan) servo motor.
Dosing device: American FMI ceramic metering pump, domestic precision ceramic injection pump. ( the plan has only one dosing station)
Main components: The material is made of stainless steel sheet metal, the frame and door are nano-processed, the steel structure frame, high-quality aluminum alloy, stable and reliable and easy to clean, in line with GMP requirements.
Applicable tube specification: flat bottom micro tube. (based on the samples provided, four sets)
Production capacity: ≥ 5500 pieces / hour
Dosing method and precision: 2 nozzles FMI ceramic quantitative pump (air atomization) ≤ ± 6% (calculation base 10µL)
Drying method: 1 group, "PTC" heating, hot air drying
Power supply: 380V / 50HZ
Power: Assembly line ~ 6 KW
Air consumption: clean compressed air pressure: 0.6-0.8Mpa, air consumption: <300L / min air inlet G1 / 2, air pipe Ø12
Equipment dimension: length, width and height: ~ 3000 (+ 1000) * 1200 (+ 1000) * 2000 (+ 300 alarm light) mm