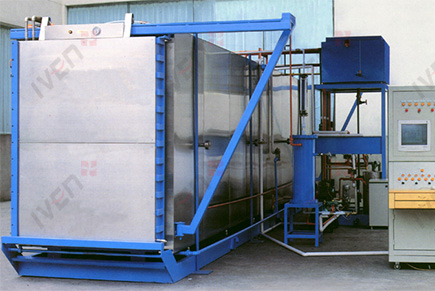 EO Sterilizer
Shanghai IVEN Pharmatech is one of the toppest EO Sterilizer in China.During these years of exporting , Shanghai IVEN Pharmatech now has rich experience in the worldwide markets
FEATURES

Main technical parameter

Main Configuration
Main Features
1. Density of hot water channel is larger (more heat dissipation area), the channels are separated into several parallel groups and the group is adjustable, it assures the heat speed and sterilizer temperature uniformity from the structure.
2. The adding EO tube which from vaporizer to chamber we use hot water circulate double wall tube- we are the only one use this technical in China-to ensure the vaporization of EO and protect contents from pollution.
3. The control system use Windows 7 OS with friendly interface, it can real time monitor, real time consult, real time alert. We can offer driver to help custom manage the intranet or copy history data if needed. It can fulfill all the requirement of CE certificate.
4. Power failure protection: the protection device can keep door sealer in its working pressure. The software can keep up with the data after power is restored.
Standards of EO sterilizer
1. Product standard: EN1422-2014< Sterilizers for medical purposes - Ethylene oxide sterilizers -Requirements and test methods>
2. Qualification standard: ISO11135-2014
| | | |
| --- | --- | --- |
| No. | Item | Parameter |
| 1 | Size | 1-100m3 |
| 2 | Sterilize temperature | 30℃~60℃ adjustable |
| 3 | Temperature uniformty | ±3℃(No load) |
| 4 | Sterilize pressure | -80Kpa~80Kpa adjustable |
| 5 | Sterilize humidity | 35%~85% adjustable |
| 6 | EO concentration | 300-1000mg/L |
| 7 | Sterilize time | According to qualified process |
| 8 | Pre-vacuum | According to qualified process |
| 9 | Flushing times | According to qualified process |
| 10 | Aeration time | According to qualified process |
| 11 | Power supply | Three phase five wires 380V50Hz or as user's local power |
Main equipment specification and brand
| | | | |
| --- | --- | --- | --- |
| No. | Name | Model/Specification | Brand |
| 1 | Industrial computer | IPC-810E | EVOC |
| 2 | Monitor | 20" | LG |
| 3 | Laser printer | LBP-6018 | CANON |
| 4 | Vacuum pump | SK2.7B | Lianyi/Zibo |
| 5 | Cycle pump | ALR50-160 | Aoli/Shanghai |
| 6 | Steam generator | DZFZ | Jiatian/Shanghai |
| 7. | Air compressor | 1.3KW | Xidong/Wuxi |


Main components specification and bran
| | | | |
| --- | --- | --- | --- |
| No. | Name | Model/Specification | Brand |
| 1 | Hard drive | 500G | SEAGATE |
| 2 | Control board | CIA | Huaqing |
| 3 | Temperature sensor | PT-100 | Yangshi/Wuxi |
| 4 | Humidity transmitter | TRH-100 | Jinbei/Shanghai |
| 5 | Pressure Transmitter | KH187 | Huatian/Shenzhen |
| 6 | Digital controller | Temp. Humidity Pressure | Yijialong/Taiwan |
| 7 | AC contactor | 3TF series | SIEMENS |
| 8 | Thermal relay | 3UA series | SIEMENS |
| 9 | Intermediate relay | HH54P | MIND/Wuxi |
| 10 | Indicator light | XDE-LED | Sanli |
| 11 | Button | PBC-A | Sanli |
| 12 | Pneumatic valve | Dg15-40 | Belleform/Wuxi |
| 13 | Solenoid valve | BF series | Shako/Taiwan |