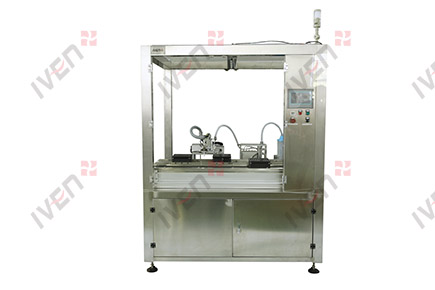 Automatic Dosing Machine
Shanghai IVEN Pharmatech is one of the toppest dosing pumps,dosing system,vertical packaging machine in China.During these years of exporting , Shanghai IVEN Pharmatech now has rich experience in the worldwide markets
Usage
It is suitable for precise filling and spraying of blood collection tube reagent。
Our Advantages
1. High accuracy and stability
Adopt advanced and stable plunger pump filling way, precision reaches 1%, not affected by pressure, voltage and time.
2. Automatic alarm, blockage prevention
During the process of filling and spraying, the medicament crystal will block the nozzle and it's hard to be discovered in the traditional operation process, the check process is complicated. In order to solve this problem, this equipment adopts a set of automatic alarm system, when the blocking of spraying nozzle and pipeline caused by foreign body or crystal under half, it does not affect the filling precision and spraying, while the blocking is over half, the equipment will automatically alarm immediately.
3. Easy operation
Drug dose can be directly adjusted on touch screen, no need to adjust the pressure, time, etc. This machine also equipped with drying system, can select on or off according to process requirements.
Main technical parameters and configuration
| | |
| --- | --- |
| Production capacity | 12,000-15,000 pcs/h, (depends on different processes) |
| Filling heads | 2 or 4 nozzle (charging system, quantity is optional), 2/4 pcs/ time |
| Control precision | ≤±2% |
| Tube type | Φ 13 tube (13*75,13*100) or Φ 16 tube;(the tube clamp for Φ 13 and Φ16 are not universal) |
| Gas consumption | ≤ 0.2m3 / min, air supply pressure:0.5mpa≤P≤0.8Mpa |
| Power | 3.6KW AC 380V 50/60Hz |
| Overall size | 1200 mm * 1000 mm * 1800 mm |
| Weight | 400kg |